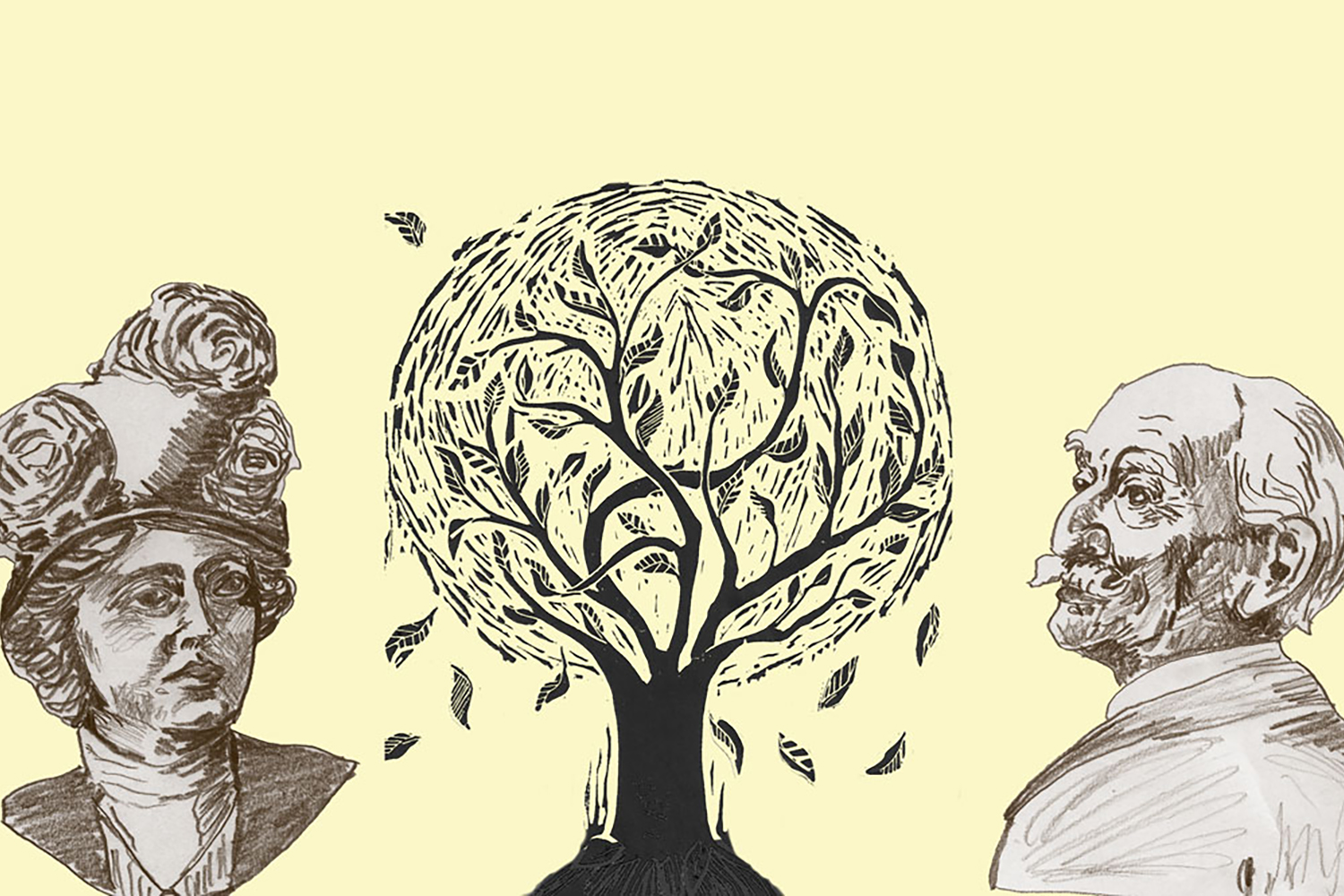 Rites of Way with Mr Hardy - audio
Stories that take you into nature
The woods are full of stories. Walk with us and listen.
ScreenPLAY invites you on a wellbeing journey through the woods at Thomas Hardy's Birthplace. Let us transport you there in your mind.
Plug in the headphones on your mobile phone and click a button below to launch. Then click on Mr Hardy, Mrs Hardy or any icon to listen.
The project was developed by ScreenPLAY artists Sharon Hayden and Alastair Nisbet in partnership with the Thomas Hardy Society and Dorset Council, with funding from the Heritage Lottery, Dorset Council and the Gulbenkian Rural Fund.
The work was recorded in and around Hardy's Cottage and includes specially commissioned music by Good Habits band, Bonnie Schwarz and Pete Shaw. Poems are read by actors Rod Drew, Perwina Whitmore and Bethany Baskett and the stories of the trees told by Enrironmental arts therapist Ian Siddons Heginworth. The drawings of Thomas and Florence Hardy are by Sharon Hayden and the Tree of Life print is by Fiona Nealon.
It is is a guided walk on time trodden paths, a journey into nature and into ourselves.
Let Thomas Hardy's words and the Celtic tree tales heighten your feelings about this place. Let yourself feel each character's feelings, and have a deeper connection with the ancient stories of the trees. Listen again and find deeper meanings and connections.
For more, there is a series of related podcasts on www.screen-play.co.uk/MrHardy or on Apple or Amazon podcasts
---
Autumn at the Cottage
Click to start
Explore Autumn at the Cottage and stories of Hardy's youth. Click to play, click to pause
Time trodden paths
Map of the woods
If you prefer, use the map as your starting point to explore the woods and click on a bench, Thomas or Florence Hardy or any icon
Rites of Way with Mr Hardy
Podcasts and more
Explore the project page and podcasts. The web app and podcasts were all recorded in an around Thomas Hardy's birthplace
---